Meet Wright Library's new Youth Services Coordinator: Michele Schoen
Michele Schoen joined Wright Library as the Youth Services Coordinator in September 2023.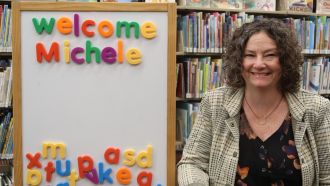 Most recently, Schoen was the Children's Programming Specialist for Washington-Centerville Public Library, where she coordinated children's programs and summer reading club. She also previously worked at Wright Library in the Youth Services Department and is excited to return in her new role as Youth Services Coordinator.
The Youth Services Coordinator oversees programming and collections for children and teens, relationships with local schools, and other library initiatives. We asked Michele some questions about how she became a librarian, how to encourage kids to read, and what she's looking forward to in this new job!
---
What drew you to librarianship?
Honestly, being a librarian is the dream job I never knew I wanted! I didn't consider librarianship as a career until I returned to work after staying at home with my children. I started my first ever library job, and everything clicked!
I love that libraries are the heart of a community, a shared space where everyone's stories can be valued and heard. It is exciting to go to work each day in a welcoming environment where I can help others make meaningful connections to lifelong learning.
As a  librarian and as a mom, what do you recommend to parents who want to encourage their children to read?
Yes, I am both a librarian and a mom (to three sons, ages 22, 20, and 15), and I understand the struggles parents face. To encourage our children, we need to empower them to be engaged in what interests them. This can be challenging in our 21st-century society, where we encounter continuous distractions and information overload. In addition, learning to read can be a struggle and at times seem like a chore. Every one of us is different, and this applies to our children and their reading interests and abilities.
First, and most important, give yourself grace as a parent. Not everyone is a voracious reader, and that is OK. Remember the big picture and aim for overall literacy. Here are some of my practical tips:
Reading to and with your children is one of the most powerful things you can do and you will never regret the time you spent snuggled up together lost in a good book. For children who are learning to read or reading on their own, you can take turns reading by alternating pages or chapters. Let your child choose the book, or take turns choosing, and keep the experience positive.
Try out different ways of engaging with stories, whether it's listening to an audiobook, checking out the graphic novel version of a classic, reading a book and then watching the movie, or going to the theater to see a story acted out on stage.
When your child asks questions, suggest going to the library together to find books or other materials on the topic. Let their interests guide the process.
Subscribe to magazines of interest to your child; it is exciting for children to get their own mail! For children under 5, sign up for Dolly Parton's Imagination Library to receive a free book every month.
Participate in a variety of library and community activities and events and explore wherever your family's curiosity takes you! A love of lifelong learning can spark increased interest in reading.
What kind of books did you enjoy as a kid? What about now?
As a child, you could always find me reading a mystery/thriller or realistic fiction. My favorites were Nancy Drew, The Boxcar Children, Choose Your Own Adventure, Little Women, and anything by Beverly Cleary. As an adult, I am still drawn to the same genres, but I also really like a well-written literary fiction, a good "chick lit," or an investigative nonfiction.
What's a library service or collection you wish everyone knew about?
I love that Wright Library offers opportunities for patrons of different ages to enjoy learning together. The Library of Things contains maker boxes, board games, learning backpacks, electronic devices, and - my favorite - activity passes to local museums and parks. I also recommend checking out these services: 
Book Buddies - A teen volunteer pairs with a reluctant K-3rd grade reader for reading practice.
Book Flights - A hand selected book bundle based on your child's interests.
What are you looking forward to in your first year as Youth Services Coordinator?
So many things! Enjoying the beautiful and cozy Wright Library. Walking to work. Working in my home community. Reconnecting with colleagues, patrons, and community members. Meeting new people. Building community and relationships. Inducting a new class of Library Ambassadors. Going into the schools and out into the community. Collaborating with others. Creating new programs. I could go on and on!
Visit the Youth Services Webpage to connect with programs and library services for youth and teens.